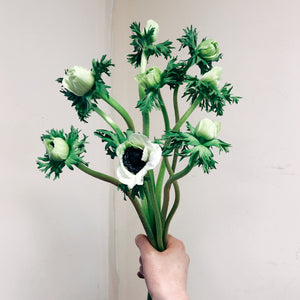 White Anemones
Also known as "windflower", there are over 120 types of these beautifully named flowers, and they bloom in Spring and again in Autumn. The anemone has many different meanings across cultures and have featured in many famous artworks from Monet to Matisse. The mythology behind the anemone flower comes from ancient Greece. Aphrodite's love for Adonis was discovered by Ares and in a fit of jealous rage he killed Adonis. As When Aphrodite's tears bloomed into the anemone flower which explains why in many cultures the anemone is a symbol forsaken love.

Anemones have been used in medicine for cramps, menstrual problems and emotional distress. They can symbolise relaxation owed to the fact their petals close at night to protect themselves from the cold. 
If you're looking to plant some cutting flowers in your garden then Anemones are a great place to start because they are perennials and also fairly straightforward to grow.
We love the black eye in these white anemones, despite being delicate after a few days in an arrangement they really bloom open and provide a great focal flower amid a country garden design.
Order by the stem, by the bunches of 10 stems or buy a wrap of 50