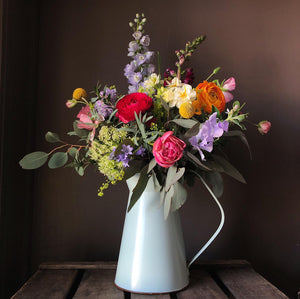 Jug + Blooms
Treat yourself or a loved one to a regular delivery of beautiful, seasonal fresh flowers! We will select the very best seasonal flowers available to us and deliver handcrafted arrangements in Catkin & Pussywillow's signature style direct to your door.
You can choose a weekly, bi-weekly or monthly delivery of cheerful doorstep blooms 
Nominate which day of the week you'd like to receive your flowers, as well as when you'd like the first drop to be made. You don't have to be in, let us know a safe place in which to leave your delivery in the special instructions box, you can also let us know if you have any allergies or if there are any specific flowers you dislike so we can be sure to avoid them
With the jug arrangement we will give you the jug when you sign up and each week we will simply deliver the perfect posy for you to pop back in it.

Payments are managed by Paywhirl. To proceed create an account, press the 'Pay Now with Paywhirl' button. This is a subscription that is tailored to you with no ongoing commitment. Alternatively, press the 'Enquire Now' button and a member of staff will be in touch.