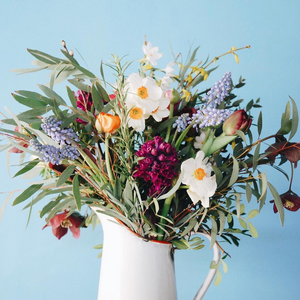 Saturday 28th March: Spring Jug Arrangement
Create your own jug arrangement full of beautiful Spring blooms picked especially for the occasion. We supply the jugs and the flowers for you to work with and take home at the end of the class.
2 - 4pm at The Log Cabin, Stockbridge Road
FURTHER INFORMATION: We are unable to refund cancellations within 14 days of the event. However, in the event that the workshop has not sold out, we are happy to offer a credit note to be used against another workshop. This is conditional upon 24 hours written notice given to shop@catkinandpussywillow.com. The workshops operate on the basis of receiving a minimum number of bookings and we reserve the right to cancel the workshop in the event that the minimum booking requirement isn't met. A full refund will be issued in this event.