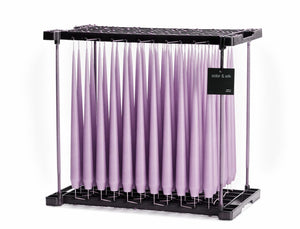 Ester & Erik Heather Crocus Taper Candle 42cm (Lilac)
 A very trendy colour this season, Crocus is perfectly lilac.
The classic taper candle was the very first candle to be dipped in our production, and even though this was more than 30 years ago, it continues to be our best-selling candle by far. The candle's fine, pointed top has always made it unique – a distinctive feature from which it derives the elegant, slender look that distinguishes it as an Ester & Erik candle.

The taper candle is 42cm 
Material: The candle is made of 100% pure fragrance-free paraffin wax from Europe's leading producer. The candle is produced at our factory in Denmark, and the wick is made of 100% cotton.
Foot: The foot of the candle is conical in shape, which means that the candle fits most candle holders.
Self-extinguishing: The candle is self-extinguishing, so the flame dies out 2-3 cm from the bottom (however, we recommend to never leave lit candles unattended).
Extinguishing guide: We recommend using a candle extinguisher to extinguish the candle. This avoids smoke, and ensures that the candle is completely extinguished, thus preventing the wick from smouldering. A candle extinguisher will completely extinguish the burning wick, so the wick remains intact.
Candle-burning tips: To ensure that the candle burns in the best possible way, we recommend keeping the wick short, placing candles min. 10 cm apart, and avoiding placing candles in draughts or above a radiator.