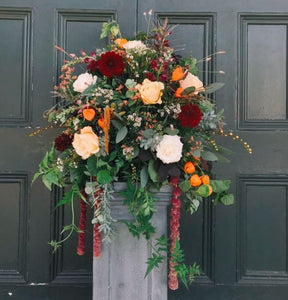 Saturday 4th July: Intermediate Workshop Day - Pedestals and Table Meadow Flowers
In this full day of Flower School you will begin by working in pairs to create your own pedestal. Followed by a buffet style lunch and an afternoon working in teams to create a table of Meadow flowers. 
Pedestal:
Working in teams of 2, we will help you create & construct your own arrangement from start to finish that will be the ideal showstopper for any party, celebration or event.
Table Meadow Flowers:
Working in teams of 3, you will each work on your own section of a table meadow which we will then join together to create a stunning and unique floral feature that winds it's way down the length of the table. You can even take your section with you at the end of the class to enjoy at home.

These classes are aimed at customers who have had some experience of floristry already, though please feel free to call us to discuss anything if you have any special requirements or questions.

10am - 1pm Pedestal Workshop
2 - 5pm Table Meadow Flowers
These workshops are available to join separately and will be held at The Log Cabin, Stockbridge Road
FURTHER INFORMATION: We are unable to refund cancellations within 14 days of the event. However, in the event that the workshop has not sold out, we are happy to offer a credit note to be used against another workshop. This is conditional upon 24 hours written notice given to shop@catkinandpussywillow.com. The workshops operate on the basis of receiving a minimum number of bookings and we reserve the right to cancel the workshop in the event that the minimum booking requirement isn't met. A full refund will be issued in this event.